In addition to protecting your family's health, the UV protection offered by residential window tinting films provides protection to materials such as paints and varnishes, plastics, wood, fabrics, and many other materials commonly found in the home which are susceptible to UV damage. All Seasons Glass Tinting installs window tinting films on commercial buildings, residential homes and automobiles. We are proud to use Solar Gard and Panorama window films  which are available with a lifetime warranty for  residential window tinting  customers and we are proud to serve the following areas. Montgomery County, Bucks County, Lehigh County, Delaware County and Chester County's in Pennsylvania.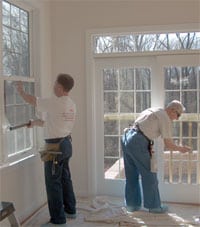 Window Tinting Benefits Include:
Fade protection from the sun
Over time, the sun fades furniture, rugs, hardwood floors and drapes in its path. But professionally installed Window Film blocks out 99% of the damaging ultraviolet rays that ordinary windows allow in. That means that furniture, upholstery, and carpeting will last longer.
Keep temperature under control
Window films will reflect the negative solar energy from the hot sun in the summer keeping you cooler and help you retain your positive solar energy in the winter keeping you warmer, which in turn will keep you comfortable all year round.
Glare Control
Window films will help reduce annoying glare by filtering the annoying white light within your daylight leaving you a more soothing and elegant natural daylight.
Safety and Security
Ordinary glass will break and splinter, but having window film on your windows can reduce the likelihood of injury because it helps hold fragments of shattered glass in place.
Easy to Maintain
Window films come with a durable surface that can be cleaned with most everyday household window cleaners as well.